A&E Established In 2005 Heads Of Department Over the Years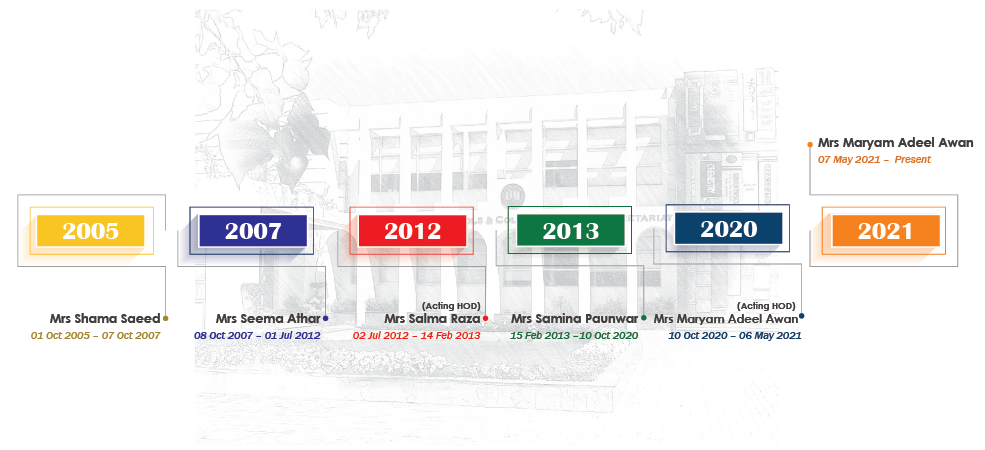 Assessment & Examination is vital part of education system as it determines whether or not the goals of education are being met. Assessment suggests decisions about grades, marks, promotion, detention and instructional needs for further improvement in teaching & learning journey/process.Continuous assessment provides day-to-day feedback about the learning and teaching process. It also reinforces the worth of teaching and learning and encourages the understanding of teaching as a formative process that evolves over the time with feedback and input from students.
Centralized Examination is designed to gauge students' progress towards desired learning objectives and modifies  performance in order to meet these objectives/goals. A fair, valid and reliable examination provides a true picture of a student's comprehension as well as deep subject knowledge, conceptual understanding and higher order thinking skills.Feedback is an important part of the Assessment & Examination process. Feedback is the teacher's response to student work. It is valuable when received timely, understood and acted on by the students therefore it needs to be constructive and meaningful. In order to make assessment an effective tool for better learning, APSACS teachers are guided to provide Subject Based Feedback as well as Personality Development Remarks.There is stress on continuous ongoing assessments. Assessments and Examination Department is responsible for developing of the following:
Key Features of the Department
To study the latest advancements in Assessment & Testing Techniques at National & International Level
To plan the Test Series for Board Classes (SSC & HSSC) and adjust them strategically in APSACS Academic Calendar
To prepare the level wise Date Sheets (each for Cold & Warm region)
To design multiple achievement/appreciation certificates & formulate the SOP for giving these certificates to students
To promote physical competence and provide opportunities for APSACS athletes through the extensive sports plan and ensuring students' participation in national and international competitions.
To maintain and analyse region wise record of the Post Term Exams Follow up Reports received from respective RDs (on prescribed format)
To furnish sample C.Ps, remarks, result templates, and question item development guidelines to assist teachers in designing assessments that align with the LOs, save time, and ensure consistency.

To emphasize capacity building and professional development through external/in-house training, workshops, and orientation/facilitation sessions, ensuring the continuous growth of senior school faculty.


To assess the implementation of Assessment Policies & Procedures in the schools during evaluations
To plan & conduct workshops/trainings related to Assessment & Examination as per requirement
To develop & upgrade the APSACS facilitation program PETS (Preparation for Entry Test Series) for the HSSC students accordingly
To develop and deliver Subject Based trainings
To plan & embed Sports in Academic Calendar
To organize Hockey Camps in the regions to promote National Game
To facilitate the students through APSACS Scholarship Scheme in order to acknowledge their Academic Achievements
To use continuous assessment as a tool for ongoing feedback and support, providing guidance on how to implement continuous assessment strategies effectively.

To identify areas of improvement in teaching and learning, through the analysis of Regional Post Examination Follow-up Reports thus, enabling the development of effective strategies