Army Public Schools and Colleges System Secretariat serves as a central unifying body which ensures uniformity and standardization amongst branches of Army Public Schools and Colleges spread across Pakistan. The Secretariat provides strategic support to the System in Academic planning, Staff Development and training. Its goal is to develop Army Public Schools & Colleges into a leading education system which is completely standardized and capable of imparting child friendly futuristic learning and quality education at affordable costs.
APSACS Secretariat, acts as a central resource which provides guidance in all technical aspects of education to all schools throughout the year. It serves as a nerve centre of the system by regulating communication and coordination amongst schools. A total number of 211 Schools (the number is increasing with registration of new schools all the time) operate under the jurisdiction of the APSACS Secretariat through a setup of 18 Regional Offices.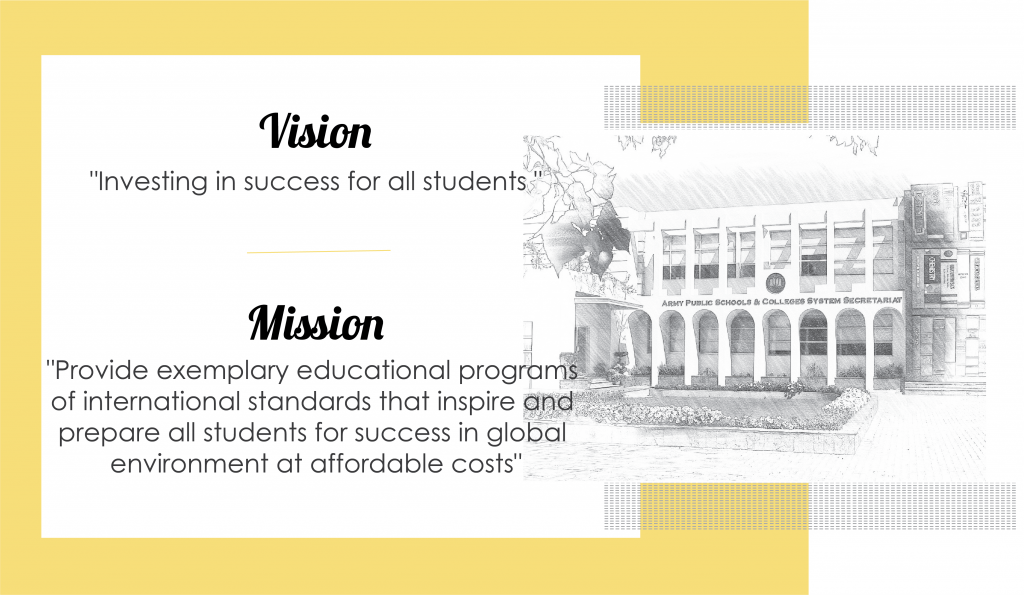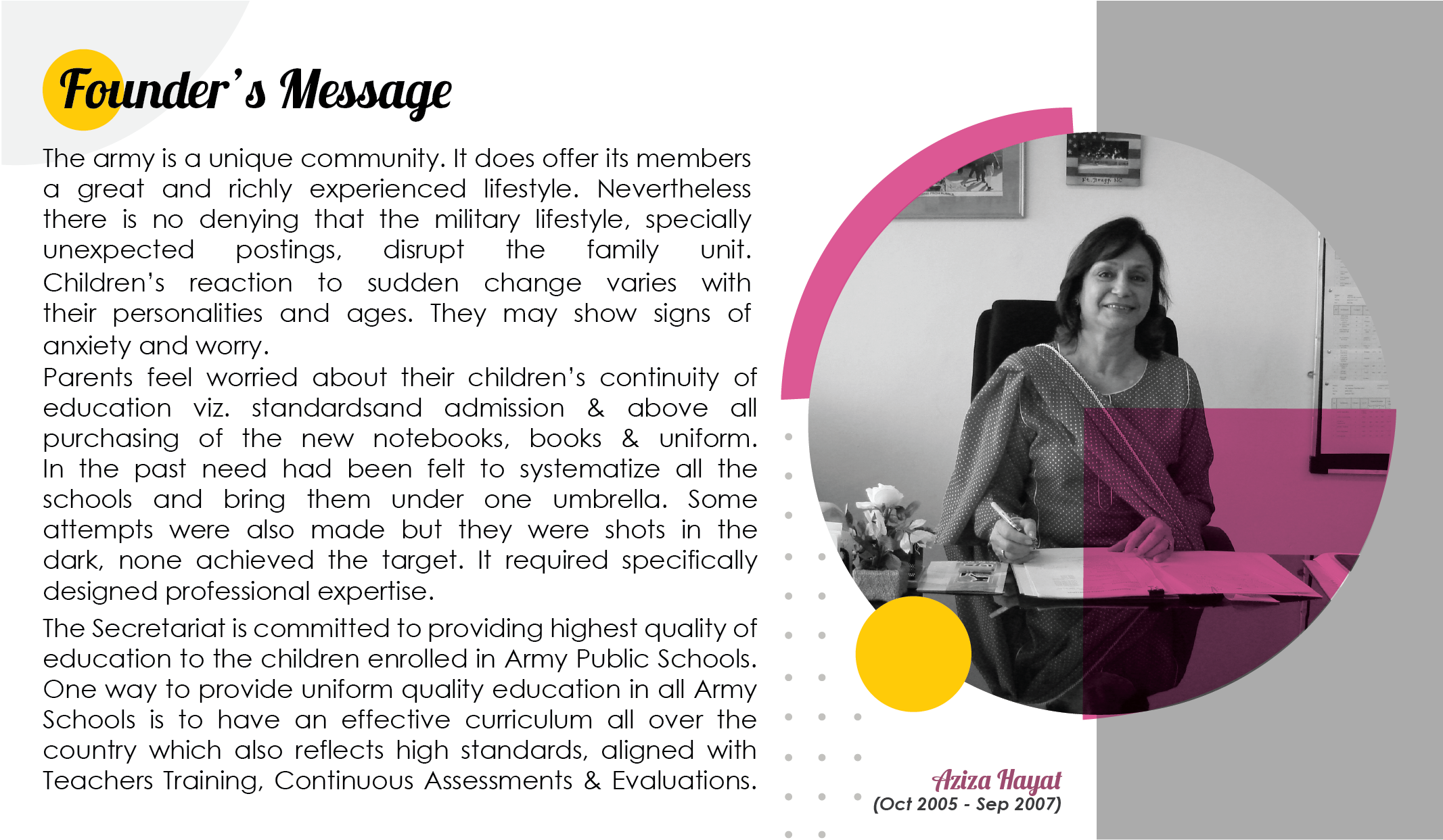 APSAC System was established on the 3rd of October 2005 with the mandate of 'Reforming Army Public Schools and Colleges' into a leading education system, capable of imparting international quality education at affordable cost.
The rationale behind the establishment of such a System was to create uniformity and standardization in Army Schools so that wards of army personnel moving frequently due to exigencies of service would be saved from financial and emotional stress. 
The daunting task ahead was to sketch a structured way of creating a robust, constantly evolving organization with the capacity for action. This involved regularization and formalization of policies and procedures related to technical aspects of education.
Today APSACS is one of the largest school systems of Pakistan with 230 schools and a student population nearing 300,000 This growth has been due to the indigenous Academic Package which has become a hallmark of success.
The APSACS Vision of 'Investing in Success for all' spells out the goals, objectives as well as the roadmap of the System. This Vision has been realized by taking the 'road less travelled,' with the concept of one international level quality curriculum, one academic package, one window of opportunity for all children whether from urban or far-flung areas, with the conviction that socioeconomic or demographical barriers should not be an obstacle to growth and success in life. This decision of not to lower the bar but to raise it systematically and constantly to meet the norms of quality education, brought in its wings all the expected hurdles that occur when a standardized quality system is introduced in an otherwise totally diverse scenario in terms of resources, target audience as well as locations.
Initial implementation challenges faced were:

Resistance to change and a fear of the hitherto unknown expected success criteria.

Achievement of the desired benchmarks through Implementers, whose selection and service structure rested with other administrative bodies.
 These challenges have been overcome by the provision of detailed day-wise planning and an extensive and intensive 'free of cost' Training Programme for the capacity building of the implementers with built-in guidance, evaluations and analysis at every step.
APSACS Academic Package follows a central coordinated approach to assure standardization through a well-designed Curriculum, Assessments & Examination System with Digital Literacy and built-in programmes for the holistic development of a child. The System is supported by one of the finest indigenous training programmes in the country based on ongoing needs analysis carried out after detailed School Evaluations. 
What makes APSACS unique and different from other school systems is the participation of stakeholders in the policies at every step and the continuous honing of procedures with their input.
Redesigning of Early Years Education, establishment of Inclusive Support Centres and establishment of a Central Institute of Professional Development are new Initiatives of APSACS.
The APSACS Package has paid dividends resulting in record-breaking high academic attainment in national and international examinations and expansion of the System at a meteoric pace with continuous pressure of admissions. However, the biggest celebration for APSACS, today, is the achievements of the far-flung schools in interior Sindh, Balochistan, Waziristan, Northern Areas and other remote, inaccessible areas of the country. The challenges of yesterday are a success story of today, as the strands of diversity have been woven into a colourful homogeneous landscape.
Today APSACS has evolved into a conglomerate of organisations which are transforming education in the country thus realising the Vision of
'Investing In Success for All'.
⁃ Army Public Schools & Colleges (APS&Cs), International Quality Education System across the country
⁃ Army Public Schools of International Studies (APSIS), International Examinations at affordable cost
⁃ APSACS Affiliate Institutions (AAIs), Quality academic package to remote areas
APSACS in its meteoric journey has conquered many peaks. Standing on a summit is not the end of the journey, look ahead and you will see thousands of peaks like 'far pavilions' beckoning you to explore new horizons.
Best wishes,
Director APSACS
Food for Thought
One third of children between 5 to 16 years are out of school in Pakistan (22.8m).
ORGANIZATIONAL ORGANOGRAM
" EDUCATION IS AN ORNAMENT IN PROSPERITY & A REFUGE IN ADVERSITY " ~Aristotle