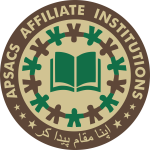 APSACS Affiliate INSTITUTIONS
"Create a place for thyself!"
About Us
APSACS Vision is to 'invest success for all students.' The driving force at APSACS is a common purpose and direction, maximum efficiency and productivity in achieving academic and personality development milestones aligned with cultural norms. An institution with which APSACS Secretariat forms an affiliation for the purpose of cooperation and collaboration in curriculum, assessment, training, and related academic areas is called an Affiliate Institution.
Vision
Empowering Every Child Through Quality Education.
Mission
Providing strong academic foundations& holistic development opportunities to all learners in a safe, supportive and disciplined learning environment that will empower them to contribute to nation building and succeed in a global and technologically advanced world with core values as a moral compass.
Values Statement
Fostering national pride, cohesion, tolerance, empathy and love for humanity.
Second Term Syllabus Break Ups for SSC(Cold/Warm) Regions have been uploaded on AIS (18-11-22)@@Block Syllabys for First Term Exams and Datesheet for Warm Region have been uploaded on AIS (18-11-22)
APSACS Affiliate Institute Organogram